Sounds like it's biased way to hot and the tube is red-plating. I really don't understand why everyone is trying to reinvent the wheel on biasing these amps. Contrary to popular belief, it's just a fixed bias amp. You can therefore bias it using the standard cathode resistor method (or if you have really good DMM's, like Flukes, you can use the OT Shunt method).
The only trick is you have to go back and forth between each triode to get the tube balanced. Blackstar runs the power tube right on the edge of it's specs and runs it "hot". So even with just a little more bias on the hot side (even on one triode), it will red-plate.
***Remember, there are lethal currents flowing. If you are not comfortable doing this, take it to a tech. I will not be responsible if you kill or otherwise maim yourself ***
Read the plate voltages across Pin 8 (Cathode 1) and Pin 6 (Anode 1). That will be the difference in voltage across the two, which is the plate voltage for Triode 1. Then do the same across Pin 3 and Pin 1. That's the plate voltage for Triode 2. On mine they both read 450V (which is the maximum plate voltage a 12BH7A can handle).
Then read the cathode currents (at Pins 8 & at Pin 3) across 1Ohm, 1watt resistors, which will give you a mV reading. From the factory mine was set pretty hot and was out of balance. One side read 6.3mV the other read 7.1mV. I turned it down to 6.2mV and balanced it across both sides. It's still pretty hot (at 450 plate voltage, a good setting would be around 5.5mV), but it sounds damn good and I have no issues with valves burning out.
It's easiest to do this with a bias probe...but try and find one for a 12BH7A. I ended up making my own for about $20 in parts and an hour or so with the soldering iron.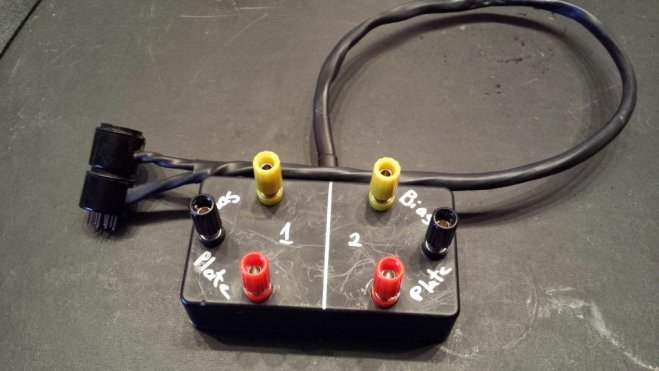 Plug the probe into the the amp, the tube into the probe and measure from the pins on the box. The "schematic" I quickly sketched before the build is below. Basically it inserts a 1ohm resistor between the cathodes on the amp and the tube for reading bias. It also inserts a a couple of resistors between the anode and cathode of each triode so that the plate voltages read in mV....you don't have to do that. I did because I'm lazy and didn't want to have to switch between ranges on my DMM's.
All the resistors are in the box, so this rig is pulling high voltages & currents out of the amp and into the box. So even though it is a fairly simple build (a box, some wire, 2x 9 pin socket savers, 6 resistors, 6 banana jacks and some shrink tubing), this is not a build for someone who is unsure of what they are doing and/or does not know how to test a rig like this prior to using it. So to reiterate:
***Remember, there are lethal currents flowing. If you are not comfortable doing this, take it to a tech. I will not be responsible if you kill or otherwise maim yourself ***